A Better Way to Think About Stock Prices
Consider the range of likely outcomes.
by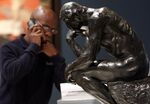 Traders returning to their desks after the long holiday weekend will be greeted by the continuing Greek saga, a guessing game about when the Federal Reserve will raise rates and a megamerger in the cable industry. But the debate I am much more interested in is the one taking place about U.S. stock valuations. It is more significant, and not as well understood as those other discussions.