Ending the Minimum-Wage Subsidy
That's something everyone should welcome.
by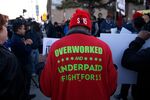 This week, Los Angeles became the third major West Coast city and the biggest in the U.S. to agree to raise the minimum wage to $15 an hour, an increase that will go into effect by 2020. Los Angeles follows Seattle, which will require employers with 500 workers or more to pay $15  by 2017. San Francisco will require the $15 hourly minimum by 2018.