Verily I Say Unto You: Christians Care About the Poor
If you think otherwise, your mind is playing tricks on you.
by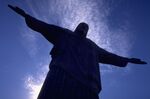 So Robert Putnam thinks that family is broken at the bottom of the economic distribution. We talked about that yesterday. Today we'll talk about what he wants churches to do about it, according to a recent interview: Adopt a more poverty-focused "public agenda" and join the "national conversation."