Uber Will Kill London's Black Cabs
That's progress for riders.
by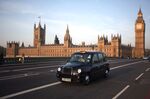 London's black cabs might be the most famous taxi fleet in the world, but their iconic status has been no defense against the march of technology. Now that the unique selling point of London cabbies -- their proficiency at navigating the capital's byzantine street system -- is replicable by any mobile phone that can run Google maps, their days are clearly numbered. While there are sentimental reasons to lament the demise of black cabs, Londoners should treat it as a sign of progress.