Kim Jong Un's Penchant for Purges
North Korea's dictator seems to mistrust his aides more than his people.
by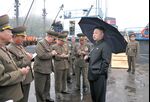 Plenty of doubts have been raised about claims that North Korea executed its defense minister by anti-aircraft gun at the end of April. Whether or not General Hyon Yong Chol met such a grisly end, though, the fact remains that top officials face increasingly uncertain fates in Pyongyang. Since coming to power three years ago, dictator Kim Jong Un has presided over a large-scale and very violent purge of North Korea's military and civilian leadership. Some 70 high-level officials and generals have reportedly been executed during Kim's brief reign.