Arabs Need Obama to Guarantee His Guarantee
Elected to end dumb wars, he dives deeper into the Middle East.
by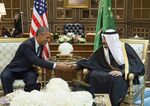 Leaders from six Gulf Arab nations will assemble at Camp David this week to ask Barack Obama for security guarantees against Iran. It's an awkward moment for the members of the Gulf Cooperation Council, or GCC. They are seeking commitments from a man whose signature foreign policy achievement would allow Iran to keep much of the nuclear infrastructure Obama once promised to roll back.