Germany Spies, U.S. Denies
Why don't Americans admit to corporate espionage? China.
by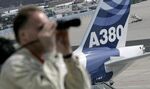 Reports of German spying on European corporate targets at the behest of the U.S. have led to calls that Chancellor Angela Merkel was hypocritical for complaining about U.S. spying on Germany. Well, yes -- but the hypocrisy of politicians hardly comes as a shock. What's more striking about the recent revelations is their targets -- and what they say about U.S. government claims that it doesn't spy on behalf of private U.S. corporations.