Court Backs Snowden, Strikes Secret Laws
Decision vindicates his contention that NSA's collection practices are unlawful.
by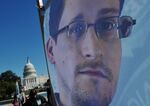 In a major vindication for Edward Snowden -- and a blow for the national security policy pursued by Republicans and Democrats alike -- the U.S. Court of Appeals for the Second Circuit ruled Thursday that the National Security Agency's metadata collection program is unlawful.  This is the most serious blow to date for the legacy of the USA Patriot Act and the surveillance overreach that followed 9/11.