Blame George Kennan for Abe's Bad History
America's postwar about-face changed Japan's trajectory forever.
by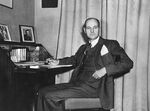 Japanese Prime Minister Shinzo Abe's hawkish policies, historical revisionism, and heavy-handed efforts to manipulate domestic and foreign media have infuriated critics in Japan and its neighborhood. They might want to reserve some of that anger for U.S. super-diplomat George F. Kennan.