When Deadbeat Dads Can't Catch a Break
When you look at the havoc child-support policies wreak on the lives of poor people, it's obvious there's something very wrong. And yet when you try to come up with a solution, you start to see how we got here in the first place.
by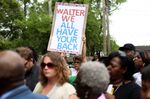 In the 1980s and 1990s, the government found itself financially supporting a lot of single-parent families in which one parent was not contributing to the support of their children. Unsurprisingly, this led authorities to crack down on "deadbeat dads," with stiff penalties for parents who didn't pay the money they owed. And that kind of situation might have helped lead to Walter Scott's shooting death on April 4. Like many poor men, Scott owed back child support that had incurred severe penalties, including stints in jail, and his family argues that he probably fled from the police during a routine traffic stop because he feared another arrest.