Americans Trapped in Yemen? U.S. Says 'Good Luck'
Saudi bombing has halted. Will the State Department finally rescue its citizens?
by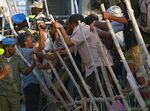 The announced end of Saudi Arabia's bombing campaign in Yemen may provide a window for thousands of U.S. citizens to leave the war-torn nation. Yet the State Department shows no sign it will begin rescuing the thousands of Yemeni-Americans there, drawing ire from the Arab-American community.