The IMF's Big Greek Mistake
Greece should have shed its debts five years ago. The IMF can fix that now.
by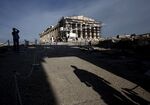 The Greek government's mounting financial woes are leading it to contemplate the unthinkable: defaulting on a loan from the International Monetary Fund. Instead of demanding repayment and further austerity, the IMF should recognize its responsibility for the country's predicament and forgive much of the debt.