Everyone Hates the Euro
Bearish bets against the euro have reached a new record.
by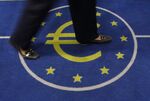 Currencies are the equivalent of company share prices, only for countries or regions. In the same way as investors favor the stocks of well-run companies with healthy profit outlooks in expanding industries, money managers lean toward the currencies of nations with growing economies, political stability and well-run monetary policies.
On that basis, the euro region is in trouble. And with Greece running out of money, the future of the common currency itself is in peril, at least for those of us who fear that one member's exit could trigger an unpredictable unraveling.
The euro has never been less popular with the international trading community. The Commodity Futures Trading Commission compiles figures comparing bullish and bearish bets on the currency versus the dollar. Traders have been consistently speculating against the common currency for the past year; those bets have now reached a record: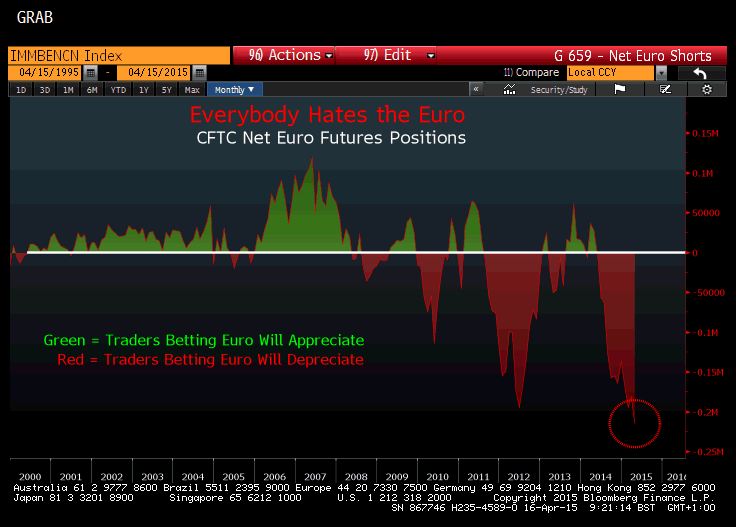 There are lots of reasons to hate the euro. Now that the European Central Bank has lurched into action with its own quantitative easing program, weird things are happening in European markets to make the currency less attractive than ever (and I don't just mean protester Josephine Witt showering Mario Draghi with confetti at yesterday's press conference). Today, the average yield on German government debt fell below zero for the first time. Yes, you read that right: Germany's average borrowing cost measured across all maturities is now less than zero:
Lending to Germany for a decade will earn you just 0.088 percent in yield, which is so close to zero as to make no difference. Given what's happening in the rest of the European bond market, investors will soon be willing to pay for the privilege of owning a 10-year German bund. The U.S., by comparison, pays 1.9 percent for its money. Why would anyone want to own euros invested in negative-yielding securities, rather than dollars which generate positive returns?
Lurking in the background of the currency market is the prospect that Greece will run out of money and default on its debts in the not-too-distant future. Here's what German Finance Minister Wolfgang Schaueble told Bloomberg television on Wednesday about a report in Die Zeit newspaper that officials are preparing ways to try to keep Greece in the euro if it defaults:
We don't have such plans, and if we were working on them -- because ministry staff are taking just about everything into consideration -- then we would definitely not talk about it.
Greece exiting the euro would be "terrible" for the nation, IMF financial counselor Jose Vinals said on Wednesday. U.S. Treasury Secretary Jacob J. Lew warned that "even if the contagion risk is much less now than it was, say, in 2012 and earlier, it would not be a good thing in a world economy just recovering from a deep recession to have that kind of uncertainty introduced." No wonder the yield on three-year Greek debt has exploded to 28 percent today, triple where it was three months ago.
Standard & Poor's Corp. whacked Greece's credit rating lower yesterday, and said it estimates the economy probably contracted by as much as 1 percent in the past six months. "Without deep economic reform or further relief, S&P expects Greece's debt, other financial commitments to be unsustainable," the rating company said. William Hill, a U.K. bookmaker, has stopped taking bets on whether Greece will leave the euro this year. "It is now looking increasingly likely that they could begin the process of departing very shortly," the company said today.
So here's an interesting question for all those participating in the crowded trade to beat up on the euro: Would the world love the common currency more, or less, the day after Grexit? Might the departure of the weakest member actually be good for the euro's value? The law of unintended consequences could kick in, sparking a wave of contagion as traders start to speculate against other euro members by driving their bond yields higher. Or it could prove cathartic, excising the weakest member of the euro gang and restoring stability to the monetary union project. With the day of judgment fast approaching, we'll soon find out if the euro is better off with or without Greece. 
This column does not necessarily reflect the opinion of Bloomberg View's editorial board or Bloomberg LP, its owners and investors.