Wynns End America's Best Business Marriage
The unhappy end of perhaps the greatest marital partnership in the history of American business.
by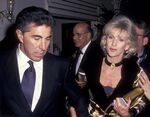 Now, I've never met Steve Wynn, but I've had a soft spot for the guy ever since reading Nora Ephron's account of the fateful encounter between his right elbow and Picasso's "Le Reve" (more on that in a bit). I've never met Elaine Wynn either, but she seems like a peach. I love this quote from a friend in Cathy Horyn's 2006 New York Times profile: "She was like a willow, beautiful and blowing graciously toward her husband." The point was that Elaine wasn't like that anymore -- she had become a force in her own right, and it was totally working for her. Just ask Steve (which Horyn did):
"You won't find anyone who thinks of Elaine as Mrs. Steve Wynn," he said, and then proceeded to suggest, for verification, that I call Maria Shriver, [Michael] Milken, Clint Eastwood, Terry Semel and "the last four governors of the state of Nevada."
What a great couple! Not anymore, though. At the moment, in fact, the Wynns seems to be at war. Accusations and possible calumnies are being lobbed by both sides as Elaine campaigns to retain her seat on the Wynn Resorts board and Steve's people try to thwart her. It's a shame, because Elaine and Steve seem like nice people. They also may have been the greatest marital partnership in the history of American business -- and their fight is endangering that success.
The Wynns met on a blind date arranged by their parents when he was a sophomore at the University of Pennsylvania and she was a freshman at the University of California-Los Angeles. They got married a couple of years later, in 1963. As Nina Munk told the story in Vanity Fair in 2005, Steve had been planning to go to Yale Law School, but then his father died, leaving behind a struggling bingo parlor in rural Maryland and $350,000 in gambling debts. Steve and Elaine took over the bingo hall (she counted the money, he called out the numbers) and turned it around, then moved to Las Vegas, where together they built not one but two great casino empires.
They did get divorced in 1986, but their business relationship endured and they remarried in 1991. When they divorced again, in 2010, it looked like the partnership would continue. Steve got 9.9 percent of their company, Wynn Resorts, Elaine got 9.4 percent, and they committed to vote their shares together. "She's my buddy, she's my best friend," Steve told the Las Vegas Weekly at the time. "I love her."
The businesses the Wynns built together had some unique characteristics. Consider the other great Las Vegas kingpins of the modern era: Kirk Kerkorian built casinos to get rich. Sheldon Adelson built casinos to get rich and give all the money to Republican political candidates. Gary Loveman built casinos to get rich and have his former business school colleagues gush with admiration over his genius with customer data. Steve Wynn, on the other hand, got rich in order to build casinos so amazing that they repeatedly landed him in financial trouble.
This process started when he and a group of partners quietly and cheaply purchased a one-acre plot next to Caesars Palace on the Las Vegas Strip in 1971. As the Las Vegas Sun retold it years later:
When Wynn began talking about building a low-end "grind joint" on the land, he had Caesars Palace's owners over a barrel. Realizing they couldn't permit such a property next to the palatial resort, the owners paid Wynn and his partners more than $2 million in 1972 for the land. Wynn used the proceeds to begin buying up stock in the Golden Nugget in downtown Las Vegas -- a company he'd take over several years later, and use as the foundation to build his Strip empire.
Wynn built that empire with Michael Milken's junk bonds and a penchant for pushing the bounds of what a Vegas casino could be. Elaine got more and more involved as the business grew and their two daughters grew up. He made the deals, she handled details like staff uniforms and the choice of shops. Their signature properties were the Mirage, which opened in 1989 and "sparked the era of mega-casinos, complete with entertainment, restaurants and shopping all in one place" (that's from the Wall Street Journal), and the Bellagio, whose 1998 debut brought super-high-end retailers and fine art to the Strip.
That lavishness changed Vegas, but it also ended up costing Steve Wynn his company, by then called Mirage Resorts. After Mirage's board told him to stop spending corporate money on art, Wynn started selling shares in order to finance his painting purchases. In 2000, with his ownership stake down to 12 percent and Mirage's share price taking a beating, he had no real defense when Kerkorian swooped in with a hostile offer.
Wynn walked away from that with more than $400 million. Did he invest it in index funds? No. A mere month after the Kerkorian deal closed, Wynn paid $270 million for the Desert Inn, a money-losing Las Vegas Strip hotel that he and Elaine immediately set about transforming. A year later he bought "Le Reve," a creepily erotic portrait of Picasso's mistress Marie-Therese Walter, for a reported $60 million.
This didn't leave the Wynns a lot of money to build a spectacular new hotel upon the ruins of the Desert Inn, so Steve lined up a partner, Kazuo Okada, who had made his fortune supplying machines to Japanese pachinko parlors. Okada and the Wynns each held about a 20 percent stake in the new company, which also borrowed a lot (it currently owes $7.4 billion). In 2005 the new place was ready, and lots of people in Vegas doubted that it would succeed. It was initially going to be called La Reve, but became the Wynn Las Vegas. Good thing, because in 2006 the Wynns -- presumably still short on cash -- agreed to sell the painting to hedge-fund guy Steven Cohen for $139 million.
Just before the painting was to be shipped out, a few New York friends came to visit, among them screenwriter and director Ephron, TV icon Barbara Walters and superlawyer David Boies. Steve Wynn brought them up to his office at the Wynn Las Vegas to see the painting. He gestured at the canvas as he described it. "There was a terrible noise," recalled Ephron a couple of weeks after the fact. She went on:
Wynn stepped away from the painting, and there, smack in the middle of Marie-Therese Walter's plump and allegedly erotic forearm, was a black hole the size of a silver dollar -- or, to be more exact, the size of the tip of Steve Wynn's elbow -- with two three-inch long rips coming off it in either direction. Steve Wynn has retinitis pigmentosa, an eye disease that damages peripheral vision, but he could see quite clearly what had happened.
Wynn exclaimed a few exclamations. Then, in an endearing reaction that accounts for why -- apart from the amazingness of the breakfast buffet at the Wynn Las Vegas -- such important people would fly all the way to Vegas to hang out with him, he said, "Thank God it was me." Cohen backed out of the deal after that, Wynn had the painting restored and Elaine decided this was a sign they shouldn't sell.
They finally did sell, in 2013, to Cohen, for $155 million. By then the Wynn Las Vegas was a roaring success, and its sister casino in Macau was doing even better. The Wynns were billionaires. They were also, of course, divorced -- and Steve had married Andrea Hissom, whom he had met on a yacht off the French Riviera in 2008. (Their 2011 wedding was at the Encore Resort at Wynn Las Vegas and Clint Eastwood was the best man. Elaine spent the weekend in Omaha, Nebraska, at Berkshire Hathaway's annual meeting.)
More important, Elaine and Steve were by 2013 no longer on quite the same page as far as business. The unraveling seems to have begun with another divorce: that of Steve Wynn and Kazuo Okada. Okada had wanted to build a casino in the Philippines, and Wynn was initially supportive. But then Wynn executives got wind of practices that they feared could land the company in big trouble back in the U.S. Former Federal Bureau of Investigation Director Louis Freeh led a probe in 2011 and 2012 that concluded that Okada and his associates "appear to have engaged in a longstanding practice of making payments and gifts to his two chief gaming regulators at the Philippines Amusement and Gaming Corporation."
With that, Wynn Resorts' board declared Okada an "unsuitable person," and seized his shares. In return, Okada got a promissory note for $1.9 billion -- about 30 percent less than the market value of his shares -- to be paid over 10 years. He wasn't happy about this, and he and Wynn Resorts have since been entangled in a legal battle in the U.S. District Court in Las Vegas with no end in sight.
It was near the end of a long June 2012 court filing in that case that Elaine Wynn dropped her bombshell. In 2002, Steve Wynn and Okada had signed an agreement to vote their shares together, and in 2006 they added the restriction that neither could sell his shares without the approval of the other. The idea was to avoid a hostile takeover like the one at Mirage. When Steve and Elaine divorced in 2010 and split their stake in two, the agreement was revised to bind Elaine to its provisions as well. With Okada out as a shareholder, though, her lawyers argued, those restrictions should be thrown out too -- so that she could give to charity and "implement estate planning measures that will protect the value of her investment for her children."
Elaine was making clear that she wanted out. But if Steve lost voting control over her shares, Linda Sandler wrote in Bloomberg Businessweek in 2013, that could mean a change of control under the company's debt agreements, and force it to offer to buy back $3 billion in bonds -- $3 billion that it definitely doesn't have lying around. Steve's control of the company would be endangered.
Elaine's lawyers asked the court to void the agreement when it resolved the Okada-Wynn dispute. Since that may still be years off, her dispute with Steve simmered on -- until suddenly coming to a boil in recent weeks. The company's board, presumably at Steve's request, failed to renominate Elaine as part of this year's slate of directors. She has launched her own independent campaign, and asserted that, because of the shareholder agreement, Steve has no choice but to vote his shares for her.
Reading between the lines, it seems most likely that what Elaine really wants isn't a seat on the board but the freedom to sell her shares. If Steve doesn't vote his shares for her, she may be able to claim that he has broken their shareholder agreement. In any case, she may create enough of a nuisance that Steve and the rest of the board decide to set her free and brave the consequences. No matter what, the great Wynn partnership seems to be done for. Which is really sad, no?
This column does not necessarily reflect the opinion of Bloomberg View's editorial board or Bloomberg LP, its owners and investors.