The Worldwide Deficit of High-Quality Debt
There's strong demand for high-quality sovereign debt and not enough supply, which means yields will stay low for a long time.
by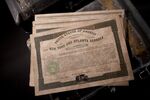 Expectations of economists and pundits notwithstanding, interest rates are falling around the world. Despite the end of quantitative easing in the U.S., and the possibility that the Federal Reserve will raise rates later this year, the long-feared economy-killing yield spike has yet to appear.