Europe Stands Up to Saudi Arabia
Sweden has now followed Germany in choosing principles over cash when it comes to Saudi Arabia.
by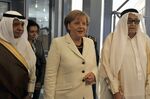 Americans often criticize Europe for its weakness and lack of principle on foreign policy, from its alleged softness on terrorism and Russian aggression, to its over-reliance on multilateral diplomacy. There are, however, some high-profile cases in which European governments stand up for their values even to their countries' economic detriment. They've recently done just that in the matter of arms sales to Saudi Arabia.