The Fed Needs Humans
Don't replace the Fed's policy makers with a mechanical rule.
by and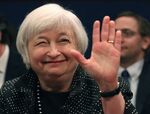 U.S. legislators have a radical plan for the Federal Reserve, one of the world's most powerful policy-making institutions: They want to remove human judgment from its decisions on where to set interest rates. It's a terrible idea that could endanger the entire global economy.