Envying Estonia's Digital Government
The only reason more countries aren't adopting Estonia's e-government system is the absence of political will.
by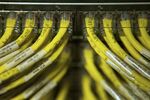 The most striking thing about Estonia's e-government system isn't the way it allows anyone to file taxes, vote, or receive a medical prescription, all in a matter of minutes and from a single website. The technology behind it is smart, but not magical. The real surprise is that more countries have yet to build similar systems of their own.