Estonia Can Handle Putin's Soft Power
Putin's influence is on the rise, but still not big enough to be a serious cause for concern.
by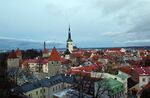 The results of yesterday's parliamentary election in Estonia would not be of interest to anyone outside the tiny nation, were they not a test of Russian President Vladimir Putin's soft power in the post-Soviet Baltic states. The voting tallies suggest that influence is on the rise, though still not big enough to be a serious cause for concern. Still, the Estonian government will have to stay vigilant in its battle for the allegiance of the country's Russian speakers.
The only participant in Sunday's ballot that improved its performance compared with the previous election was the Center Party, which is supported by the overwhelming majority of Estonia's Russian population. The group won 24.8 percent of the vote, a slight increase from 23.3 percent in 2011. Yet the ruling Reform Party still beat it with 27.7 percent of the vote (down from 28.6 percent four years ago), and since it will form the ruling coalition, the Center Party -- shunned by most other Estonian political forces -- will not be part of it. This situation is echoed in Latvia, where Harmony, the party of Russian speakers, formed the biggest faction in parliament last October but was kept out of the governing coalition.
On the surface, the treatment of the sizable Russian minorities in both Baltic states might seem patently unfair. In Estonia, they make up more than a quarter of the total population of 1.24 million, yet only a dozen ethnic Russian politicians -- most of them from the Center Party -- earned a place in the 101-member parliament. But that's partly due to many Russian speakers' citizenship status. Some 90,000 of them carry so-called "grey passports" which do not grant them voting rights, and another 130,000 are Russian citizens (though some of these hold Estonian citizenship, too). Once that's all taken into account, ethnic Russians who are Estonian citizens are, in fact, adequately represented in the legislature.
There are also good reasons why the Russian parties would be ostracized in Baltic parliaments. The Russian minorities in these countries do, in fact, represent a kind of latent fifth column -- if only because the Russian propaganda machine is a major news source for them.
Rodion Denisov was the last editor-in-chief of Molodezh Estonii, or "Estonian Youth," once the most popular Russian-language daily in Estonia, famous throughout the Russian-speaking world for having once employed Sergei Dovlatov, one of the greatest authors to have written in the language of Tolstoy in the second half of the 20th century.
"Even though our circulation had dropped to a few thousand from 200,000 in the old days, we had ministers coming to us to talk, we didn't have to go to them," Denisov recalls about the paper's final years, 2008 and 2009. Molodezh Estonii folded because its Estonian owner, Russian-speaking distiller Igor Savenkov, went bankrupt after his Russian business partners were swept away when the Kremlin decided to bring the grain alcohol industry under state control.
Denisov now publishes a quarterly glossy magazine called Krasivaya Zhizn, or "Beautiful Life" -- "strictly no politics," he says, because a Russian news publication would not be able to draw enough advertising to sustain itself. Just about the only local Russian-language news outlets in Estonia are a few websites that translate content from their Estonian parent sites.
Krasivaya Zhizn is full of stories about Russian pop stars and TV personalities -- popular because Estonia's Russian speakers watch Moscow TV as their first choice. That, of course, means they also consume Putin's virulent propaganda, especially on the Ukraine crisis. Though many of the local "Russians" -- Soviets, really -- are of Ukrainian origin, they don't watch TV channels out of Kiev. "To put it mildly, Moscow does a better job," Denisov explains. 
The Center Party, for its part, aims to please Estonia's Moscow TV watchers. One of its leaders, Yana Toom, a European Parliament member, is a staunch opponent of the European Union's economic sanctions against Russia. So is Edgar Savisaar,  Center Party founder and mayor of the capital, Tallinn, who last year called the fake referendum that joined Crimea to Russia "legitimate enough to believe in."
Using money from sources linked to close Putin ally Vladimir Yakunin, head of Russia's state railroad monopoly, Savisaar recently built a Russian Orthodox church in a predominantly Russian-speaking neighborhood of the city. The Center Party also has a cooperation agreement with United Russia, Russia's current ruling party. It's not clear exactly what the cooperation entails, but the connection makes the Centrists anathema to Estonia's nationalist parties, which together dominate the political scene. Savisaar is not above portraying himself as a victim. When anti-Putin Russian politician Boris Nemtsov was shot just outside the Kremlin last Friday, Savisaar used the news to highlight his own status as an "Estonian Nemtsov." "In Estonia, the same political technology as in Russia is being used," he said in a statement. "If the Russian authorities call its opponents U.S. agents, in Estonia the opposition is being labeled as Kremlin agents."
It may seem strange that Savisaar would be calling out the Kremlin's propaganda -- is he for Putin or against him? -- but in Estonian politics, winning the Russian vote and staying in the mainstream requires some deft balancing. The Estonian Russians -- or Soviets, as may be the case -- are, when push comes to shove, Europeans. They like being able to travel freely within the EU, a right even the holders of "grey passports" enjoy, and they value their relatively high living standard. In Estonia, the average wage, at 832 euros ($931) per month is about twice as high as in Russia. Unlike in Crimea and eastern Ukraine, the local Russian speakers see no economic advantage to living under Moscow's rule.
That makes it unlikely that Putin, if he ever decides to expand his empire westward, will get much help from his Estonian compatriots. "They may watch the propaganda shows, they may even toast Putin from time to time, but they won't go out in the streets for him," Denisov says.
Still, Estonia's Russian vote is gradually growing more important, as yesterday's results attest and the Estonian government is mindful of that. The state-owned TV company is planning to launch a Russian-language channel this year, which gives an opportunity to address the many issues of concern to the country's ethnic Russians that Moscow TV is never going to cover, such as the condition of Russian schools in the Baltic state. Currently, they have to teach 60 percent of the subjects in Estonian, a language that resembles Finnish and is tough for a Russian-speaker to learn. The Center Party has spoken out for abolishing it at least until decent bilingual education programs can be worked out, contributing to its popularity with the Russian voters. But this shouldn't be an issue that only one party talks about.
Essentially, the anti-Moscow Estonian establishment is fighting a quiet war of attrition against Moscow's influence. If it can keep local Russians focused on an Estonian agenda, the remote danger of a Crimea scenario will be further neutralized. The Kremlin, for its part, will continue vying for Estonians' hearts and minds: The recently established Russian propaganda outlet Sputnik is already hiring staff to run a news site and radio station for them in both Russian and Estonian. As long as Putin is not sending in an unbadged invasion force, however, Estonia is safe. The election results show it's not about to implode anytime soon.
This column does not necessarily reflect the opinion of Bloomberg View's editorial board or Bloomberg LP, its owners and investors.
To contact the author on this story:
Leonid Bershidsky at lbershidsky@bloomberg.net
To contact the editor on this story:
Cameron Abadi at cabadi2@bloomberg.net
Before it's here, it's on the Bloomberg Terminal.
LEARN MORE