Russian Liberals Won't Lead the Revolution
Exiled oligarch Mikhail Khodorkovsky is asking the West to look beyond Putin, but he offers no credible alternative.
by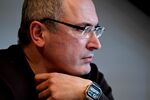 What Russia will be like after Vladimir Putin is probably the most important question for everyone with a stake in the country's future. Mikhail Khodorkovsky, once Russia's richest man and now a political exile, is optimistic he'll have a role to play. But his plans may put him on the same path toward political irrelevance that another Russian billionaire, Boris Berezovsky, followed after leaving Russia.