Real-Estate Agents Ride High Again
There are fewer real-estate agents than a few years ago and their incomes are rising as the housing market recovers.
by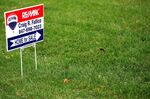 This is turning out to be a pretty nice time to be a residential real-estate agent. As the housing market recovers, average income has been rising faster than sales largely because there are fewer agents planting for-sale signs. 
It's mostly the result of the agent shakeout after the financial crisis began, when both sales and prices collapsed. Today, even after steady improvement in the housing market, the number of agents registered with the National Association of Realtors is more than 8 percent lower than in 2008. 
That means the real-estate agents who stuck around after the housing bust are now enjoying a rare sweet spot as rising sales and prices boost the average commission per transaction. For example, in 2014 the combined average sales price of new and existing homes was $261,207 and the average agent sold 4.8 homes. Based on the standard 6 percent sales commission, agents' annual income averaged $75,252 in 2014, 38 percent higher than the $54,361 earned in 2008.  Of course, agents don't receive the full commission personally, and the money usually is shared among multiple agents on each transaction.

One thing to keep in mind: The business is made up of haves and have-nots.  My guess is that 20 percent of the real-estate agents account for 80 percent of all sales. And those top producers will likely sell more higher-priced new homes and represent both parties in a transaction, which generates the highest income. 
Since the barriers to entry in the residential real-estate sales business are low, that probably means this opportunity for the few to earn more won't last very long. 
This column does not necessarily reflect the opinion of Bloomberg View's editorial board or Bloomberg LP, its owners and investors.