CFPB Proves Its Critics Right
The CFPB is determined to root out discrimination in auto lending, whether it exists or not.
by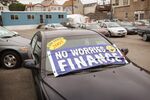 Car dealers sometimes make discounts, at their discretion, on loans they help to arrange with financial companies. That's a pretty fundamental aspect of how they do business. Yet the federal government is trying to put a stop to it.
The Consumer Financial Protection Bureau, an independent agency established by the Dodd-Frank financial-regulation law in 2010, says that letting the dealers exercise discretion opens the door to discrimination based on race and sex (whether or not that discrimination is intentional). So it's leaning on lenders to eliminate or at least limit that discretion and come up with "a different mechanism" for compensating dealers.
The CFPB's position runs into three difficulties that invalidate its approach to this issue -- and suggest how prone to abuse this new agency may become.
First, evidence of widespread harm in this intensely competitive market is thin. Auto lenders aren't allowed to gather data on customers' race. So the bureau has resorted to the dubious proxies of surnames and geography to assign races to customers, and then to assess discrimination. It has dragged its feet about revealing its methods, which are open to serious question. A study by Charles River Associates, a consulting company, found that differences in the way customers are treated "can be largely explained by objective factors other than race and ethnicity. In addition, the use of race and ethnicity proxies creates significant measurement errors, overestimates minority population counts, and results in overstated disparities."
The agency's legal authority is also shaky. The Dodd-Frank law included an amendment specifically exempting car dealers from the CFPB's jurisdiction. The agency thinks it can get around that limitation by regulating dealers at one remove -- that is, by using regulation of financial companies to change their behavior. Whether that narrow reading of the law is a plausible one will be up to the courts if the CFPB keeps up its effort.
And finally, there's an alternative way to reduce the risk of discrimination. The National Automobile Dealers Association, a trade group that opposes the CFPB's action, is promoting a program modeled on a consent agreement the Justice Department entered into with two car dealers to resolve accusations of unintentional discrimination. Dealers would develop policies for offering discounts and keep records of why they were offered. That seems like an approach worth trying before ham-handedly forcing changes to car dealers' business model.
Representatives Marlin Stutzman and Ed Perlmutter introduced a bill in the last Congress to stop the CFPB from regulating the car dealers. It drew 149 co-sponsors, including many liberal Democrats who cannot be said to be soft on discrimination. The bill is expected to be re-introduced this year.
When Dodd-Frank was being debated in Congress, critics warned that the CFPB would have little accountability and would therefore be inclined to overreach. On this issue, the agency seems determined to prove that fear right.
This column does not necessarily reflect the opinion of Bloomberg View's editorial board or Bloomberg LP, its owners and investors.
To contact the author on this story:
Ramesh Ponnuru at rponnuru@bloomberg.net
To contact the editor on this story:
Timothy Lavin at tlavin1@bloomberg.net
Before it's here, it's on the Bloomberg Terminal.
LEARN MORE