Poll Shows Americans Want Netanyahu to Speak
Americans don't like how Boehner invited Netanyahu to address Congress. But a new poll shows more want him to speak than not.
by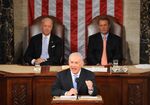 How do Americans feel about Israeli Prime Minister Benjamin Netanyahu addressing Congress next month? According to one new poll, more support it than object -- despite the controversy over the way he was invited.