Texas Misjudges Obama on Immigration
Judge Andrew Hanen was right to focus on the technicalities in Obama's deferred action immigration plan, but his ruling got the argument wrong.
by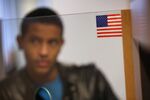 The decision by a federal judge in Texas on Monday to strike down President Barack Obama's immigration reform initiative runs to a whopping 123 pages. But the crucial ruling is fairly narrow: In adopting a plan to allow unlawful immigrants to apply for "deferred action," Judge Andrew S. Hanen said, the Department of Homeland Security acted unlawfully because it did not allow the public to comment in advance. With this conclusion, Hanen almost certainly overreached.