Another Hockey Death, More NHL Denial
Steve Montador retired because of a concussion. Now he is dead. Does the NHL care?
by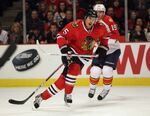 The death of a well-liked hockey journeyman has put another face on the National Hockey League's growing concussion problem. It's also highlighted some of the pitfalls of covering an issue in which the sports media will play a key role in any progress.