Still Missing: 2.9 Million U.S. Workers
Will millions of U.S. labor-force dropouts come back? It's a big question for the Fed.
by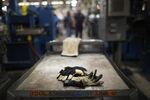 Of all the uncertainties facing the global economy this year, among the biggest is when the U.S. Federal Reserve will start pulling back on stimulus by raising interest rates. Judging from the millions of U.S. job-market dropouts who have yet to return, the Fed can afford to take its time.
The numbers in today's jobs report suggest that the economy is well on its way to recovery. The Labor Department estimated that nonfarm employers added 257,000 jobs in January, bringing the three-month average to 336,000. The unemployment rate ticked up a bit, to 5.7 percent from 5.6 percent, but for a good reason: People have to be actively looking for work to be counted as unemployed, and apparently more started doing so in January.
For all the progress, though, too many people still aren't working or even looking for a job. Among those at the prime working ages of 25 to 54, the labor-force participation rate stood at 81.1 percent in January, compared with an average of 83.4 percent in the 10 years before the recession. That's a difference of about 2.9 million people.

The depressed participation rate can have various meanings. Maybe there are still a lot of people who will enter the labor force, providing plenty of supply for employers as the economy grows. Or maybe demographic shifts have taken people out of the work force permanently, in which case growing demand for labor will soon start pushing up wages -- a development that might prompt the Fed to start raising interest rates in an effort to curb inflation.
The latest jobs report offers mixed signals. On one hand, the uptick in the participation rate suggests the stronger economy may be starting to coax people back into the job market. On the other, average hourly earnings increased 0.5 percent in January, bringing the three-month annualized growth rate to 2.6 percent -- though Fed Chair Janet Yellen has suggested she'd like to see wages rising, and wouldn't immediately be too concerned about inflation getting out of control if they did.
How the Fed interprets the participation rate will have big repercussions. If it ultimately decides that millions of people won't be coming back into the labor market, it's effectively resigning itself to the conclusion that the economy's productive capacity has been permanently impaired. As Bloomberg View argues, Fed officials should wait as long as possible before making that call.
This column does not necessarily reflect the opinion of Bloomberg View's editorial board or Bloomberg LP, its owners and investors.
(Corrects wage growth rate in fifth paragraph.)
To contact the author on this story:
Mark Whitehouse at mwhitehouse1@bloomberg.net
To contact the editor on this story:
James Greiff at jgreiff@bloomberg.net
Before it's here, it's on the Bloomberg Terminal.
LEARN MORE