Friday Food Post: The Best Steakhouse Is Your House
Steak is delicious. You should eat it. You just shouldn't eat it at a restaurant.
by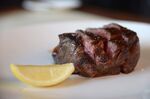 I have a fearsome task before me today, and that is to persuade you to stop doing something that millions of Americans have been happily embracing since the invention of "dining out." I refer, of course, to ordering steaks at a restaurant.