view
Why India Needs Better Numbers
How can policymakers make decisions if they can't trust the data?
by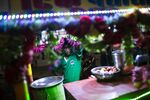 When India reports new GDP numbers on Monday, there's likely to be cheer in New Delhi -- and not a little head-scratching. Last week, the Ministry of Statistics revised GDP figures for the financial years of 2012-13 and 2013-14 dramatically upward: Instead of growing at a tepid 4.7 percent in the year before Narendra Modi was elected prime minister, India supposedly grew at a roaring 6.9 percent pace.
Even some of the nation's most influential policymakers were taken aback by the new numbers, which were calculated using a different methodology, new sources of data and a new base year. Central bank governor Raghuram Rajan declared he wasn't ready to change his prediction for 5.5 percent growth this year, saying "I don't want to say anything about the numbers until we understand them better." Arvind Subramanian, Modi's chief economic adviser, admitted he was "puzzled" by the new figures.
Was India sputtering under the previous, Congress-led government or booming? How should the new numbers change the government's fiscal targets, or Rajan's calculus about when and whether to cut rates? Without better confidence in the data, policymakers are obviously hamstrung in their decisionmaking.
The GDP revisions are a reminder that India faces some of the same issues with iffy data as China does. That shouldn't necessarily be the case. Apart from the Statistics Ministry, Indian data is parsed by a Central Statistical Commission, a Central Statistical Organization, a National Sample Survey Organization and an entire civil service cadre, the Indian Statistical Service. Unlike in China, too, local officials have little incentive to fudge the numbers; the central government doesn't set growth targets for them to meet.
Yet longstanding problems remain. Some involve theoretical and measurement issues, as with the revised GDP numbers. It's also extremely difficult to collect quality primary data in an economy dominated by the informal sector, where companies and individuals rarely submit sales figures and can't be forced to do so.
However expansive it is, the government's statistics machinery operates in a silo, detached from the major economic policymaking ministries. The first step in any reform process would be to mandate closer interaction between the two so that policymakers understand the methods being used and statisticians understand what the policymakers need. Needless to say, the government's leading economists should not be mystified by official GDP data. That sends a signal of deep confusion to other stakeholders in the economy. It also undermines sensible, forward-looking economic policy, which can only be formed on the basis of data which isn't misleading and is clearly understood by all.
An effort also needs to be made to eliminate unnecessary time lags in the collection and release of data. India conducts a poverty census -- crucial to framing welfare policies for the poor -- not even once every decade. According to the chairman of the Statistical Commission, the last census for below-poverty-line families covers the period between 1997 and 2002. India has likely lifted hundreds of millions of people out of poverty since then, yet has no accurate measurement of that number. In effect, welfare policies are based on back-of-the-envelope calculations and guesswork.
Similarly, quarterly GDP data is released at least six weeks after the end of the quarter in question. Inflation data is released every month. Ideally, the Reserve Bank of India needs data on both indicators at a similar frequency to set monetary policy.
The challenge of collecting data from the informal economy -- which contributes almost 50 percent of GDP and employs 90 percent of India's workforce -- is more complex. The size of the bureaucracy dedicated to statistics means that there are presumably enough people employed in data collection. Still, it would make sense to outsource some of that job to private companies if they have better and quicker methods of collecting data than an inherently rigid government bureaucracy. In some cases, private-sector companies should be allowed to compete with government agencies in collecting and interpreting data.
If India is serious about becoming an economic superpower, it needs to work harder to create a world-class statistical system. Good numbers are welcome. Timely, accurate data is indispensable.
To contact the author on this story:
Dhiraj Nayyar at dhiraj.nayyar@gmail.com
To contact the editor on this story:
Nisid Hajari at nhajari@bloomberg.net
Before it's here, it's on the Bloomberg Terminal.
LEARN MORE