view
ECB Says 'No' to Greek Prayers
By turning off its lending taps to Greece, the ECB is engaging in dangerous brinksmanship that could easily backfire.
by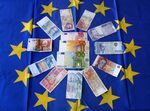 The European Central Bank has answered Greece's funding prayers with a resounding "no." By turning off its lending taps to the nation's financial system, the ECB is engaging in dangerous brinksmanship that could easily backfire unless the European Union finds common ground with Greece's new government.
Late yesterday, the ECB effectively stopped Greek banks from using junk-rated government debt as collateral. The banks will now pay a penalty rate of 1.55 percent to get so-called Emergency Liquidity Assistance from their domestic central bank -- the ELA was supposed to be for emergencies, after all -- up from the 0.05 percent levied on ECB funding.
The mechanics of the surprise move are less important than the signal it sends. It suggests a lack of patience at the ECB with Greece's new administration, which is still finishing its lap of honor around the capitals of the European Union and trying to persuade its creditors to renegotiate how it can pay its debts. It also suggests the central bank is supplanting politicians in trying to steer the European Union and its most recalcitrant member toward a resolution.  
Those are both mistakes. Greece needs breathing space, not shorter deadlines. Economists are starting to raise the specter of capital controls as a way to keep the banking system afloat and prevent money from fleeing abroad. Nothing is more likely to provoke a run on the banks than the fear of a Cyprus-style confiscation of private deposits. No wonder Greek bank stocks slumped as much as 23 percent in early trading today.
Of course Greece's new government will make missteps -- seeking the resignations of the chairman and the chief executive overseeing the country's privatization fund, for example, showed a worrying lack of awareness about how playing to the domestic gallery can damage your international reputation. But it does have a clear, democratic mandate from its voters to change economic course away from relentless austerity, and the nation's EU partners should find a way to respect that election outcome.
U.K. Chancellor of the Exchequer George Osborne says Greece poses the biggest threat to the global economy. So far, the conciliatory talk is one-way traffic, with Greek officials appearing far more willing to seek compromise than their peers.
"Let's have a bridging program between now and when we're ready to come to an agreement," Greek Finance Minister Yanis Varoufakis said at today's press conference with his German counterpart, Wolfgang Schaeuble. That's an eminently sensible request that the EU and ECB should find in their interests to agree to.
To contact the author on this story:
Mark Gilbert at magilbert@bloomberg.net
To contact the editor on this story:
Cameron Abadi at cabadi2@bloomberg.net
Before it's here, it's on the Bloomberg Terminal.
LEARN MORE