Europe Should Call Greece's Bluff
Giving in to Athens's demands would create a Greek tragedy likely to engulf all of Europe.
by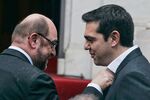 In November 2011, I hosted a dinner for senior German bankers that was dominated by heated debate over the continuing Greek financial crisis. They were adamant that Greece should not again be rescued by Germany and its European partners or the International Monetary Fund. I argued that a further bailout was the only option.