Republicans Evolve on Climate Change
This week's votes showed the Senate has a filibuster-proof majority that believes in man-made climate change. Now, what are they going to do with it?
by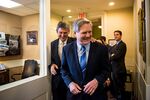 Some rare good news came out of the U.S. Senate this week on climate change: There are at least 60 senators who believe that climate change is real and caused by human activity. That's enough to break a filibuster on a bill, if they could ever agree on what it should include.