Oliver Stone, Patron Saint of Truthiness
Oliver Stone says the West doesn't know the truth about the Ukrainian revolution. But does he know what "truth" even means?
by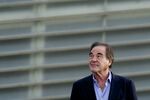 Film director Oliver Stone says he knows what really happened in Ukraine this year. His version of events surrounding the ouster of President Viktor Yanukovych in February provides a fitting ending to a year that contributed new facets to the notion of "truth."