Let States Dare to Make Health-Care Mistakes
Conservatives may be unhappy if states follow Vermont's failed single-payer experiment, but that should be the states' choice.
by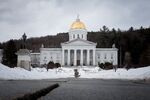 The death of Vermont's effort to install single-payer health care is revealing -- and not only for what it says about the feasibility of such government-run systems in the U.S. It also shows conservatives a way forward if the Supreme Court voids broad swaths of the Affordable Care Act in 2015.