The High Price of Hacking
North Korea may have pulled off a devastating cyber-attack on Sony. But its economy is more vulnerable than ever to retaliation.
by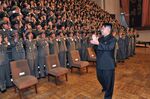 There is little doubt that President Barack Obama meant business when he said the U.S. would respond to North Korea's hacking of Sony Pictures Entertainment computers. It's unclear whether or not Monday's shutdown of the North Korean Internet was part of that response. Regardless, Kim Jong Un's regime may soon have cause to regret its assault on Hollywood.