Do Experts Value Your Home More Than You?
Real-estate appraisers are more optimistic than homeowners, and that might be a warning sign.
by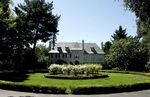 Homeowners are almost naturally inclined to have a higher opinion of their properties than anyone else, including potential buyers, lenders, brokers or appraisers. But that wasn't always the case during the bubble years, and inflated real-estate appraisals contributed to the excesses.