view
Real-Estate Appraisals Are Bubbly Again
Efforts to ensure that real-estate appraisers don't inflate valuations haven't worked out as expected.
by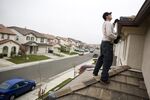 A key goal of the financial reforms after the housing bust was to prevent banks and other interested parties from pressuring real-estate appraisers to inflate valuations.
One remedy that was folded into the Dodd-Frank Act led the industry to rely on appraisal-management companies (AMCs) as a buffer between appraisers and lenders. Since AMCs keep as much as half the appraisal fee paid by the borrower, today's appraisers are effectively paying for banks to comply with appraisal regulations. Although this led many veteran appraisers to leave the industry, newcomers with less experience and market knowledge continue to enter. Research has shown this has contributed to a decline in appraisal quality.  
But other forces are at work. Since the housing boom ended, mortgage volume has dropped by two-thirds and home sales are still about 30 percent below the 2005 peak. Meanwhile, the number of licensed and certified appraisers, now about 100,000, has fallen at only half the rate of home sales and much less than the drop in mortgage-origination volume. The result is an oversupply of appraisers, with more of them willing to come up with valuations to make a transaction work.



This combination is why an estimated one in seven appraisals is inflated by as much as 20 percent.
The promise that AMCs would provide greater independence for appraisers has proven inadequate at best. The simple economics of supply and demand have created the same problem: Too many appraisers and not enough mortgage business have resulted in pressure to inflate values.  All the recent industry disruption has been for naught.
Until banks bear the full cost of complying with financial reforms and drop their exclusive reliance on the AMC middlemen who cut appraisers' pay, appraisal quality probably will remain suspect.
To contact the author on this story:
Jonathan J Miller at jmiller@millersamuel.com
To contact the editor on this story:
James Greiff at jgreiff@bloomberg.net
Before it's here, it's on the Bloomberg Terminal.
LEARN MORE