Goldman Is Helping Uber Raise Money From Rich People
Uber's private placement is a lot bigger than most IPOs. And no pesky filings! So why do an IPO?
by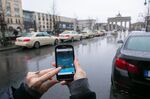 Last week Bloomberg News reported that Uber was raising "at least $1 billion" from investors like T. Rowe Price and Fidelity at a $35 to $40 billion valuation. Yesterday Dan Primack at Fortune reported that Uber is also seeking to raise several hundred million dollars from Goldman Sachs private wealth management clients.
In 2011, Goldman tried to do a very similar deal for Facebook 1 -- raising money from private wealth clients prior to the initial public offering -- and it became a horrible nightmare. It got wide news media coverage, and people worried that that might constitute "general solicitation" in violation of the securities laws, so Goldman ultimately had to pull the deal from its U.S. clients, leaving them furious and less wealthy than they otherwise would have been, though still quite wealthy.
This time around, that problem has been solved by legislation: The JOBS Act required the Securities and Exchange Commission "to lift the ban on general solicitation or general advertising for certain private securities offerings." So now Goldman can advertise as widely as it wants -- which, as it happens, is not especially widely, pretty much just e-mailing its private wealth clients. More relevant, perhaps, is that media attention shouldn't prevent the private placement from going forward. 2 I could do something like write in big letters
Hey everyone now you can invest in Uber
with no risk of blowing up the deal. 3
So now Uber can talk freely about its fundraising plans. And, while Uber is a private company, it is not raising money (just) from venture capitalists or private equity firms or other traditional investors in illiquid private companies. The two investors named in that Bloomberg article were T. Rowe Price and Fidelity, two giant mutual fund complexes that are top-10 owners of Facebook and Alibaba and various other publicly listed tech and tech-ish companies. If Uber was doing an IPO, it would be targeting, you know, T. Rowe and Fidelity.
It would also be targeting retail investors, and, again: It is. Goldman private wealth management is pretty ritzy retail -- its clients' "average account size is $40m, making them comfortably among the richest 0.1 per cent of the US population" -- but if you're an individual investor getting allocated shares in a hot IPO, you're probably a pretty ritzy retail investor yourself. Just like it would be in an IPO, Uber is selling to rich individuals.
So this round of private fundraising lets Uber access most of the investor classes that it could have accessed in a public offering. It's not constrained in the types of investor it can sell to, with the statistically large but economically insignificant exception that it can't sell to "non-accredited" individual investors. 4 Nor is it particularly constrained in its number of investors. 5 And it doesn't seem to have much trouble with the amount of money it can raise: This round of fundraising involves "at least $1 billion" in institutional money and "several hundred million" from individuals, and "Uber still has some $1bn on hand from previous investment rounds." A deal of, say, $1.5 billion would rank as the seventh-biggest U.S.-listed IPO of 2014, and that's not even counting the $1.2 billion or more from Uber's June fundraising round. 6
So ... why do an IPO at all? Uber can raise all the money it needs, 7 from all the investors it wants, as often as it wants. And it doesn't have to file audited financials with the Securities and Exchange Commission, or subject itself to stock exchange governance guidelines or flash crashes, or deal with short sellers or activist investors or nuns or really any investors it doesn't want. Companies that go public give up a lot, and don't really get anything. So why do it?
The answer, of course, is pretty simple. The people investing now -- like the ones who invested in June, or last year, or earlier -- will want to be able to cash out. They could in theory cash out by selling to each other; certainly there are private companies that allow trading among their private shareholders, 8 though Uber apparently does not. But even leaving aside the administrative headaches, selling to each other has a certain zero-sum feeling: For everyone in the limited universe of pre-IPO investors who makes money by selling at a higher valuation, another is out-of-pocket paying that higher valuation.
No, the way to cash out is in an IPO. An IPO brings in new money, which can take shares off pre-IPO investors' hands at a higher valuation, making all of those pre-IPO shareholders richer. The current private-wealth deal explicitly recognizes this: It is not for common stock, but for convertible debt that will convert into common stock at the IPO, presumably at a discount, so that everyone gets richer as soon as the IPO happens. 9
Crucially, an IPO provides a way to increase the demand for Uber stock -- it goes from a limited universe of institutional and accredited pre-IPO investors to a broader universe of public investors -- without really increasing the supply. I mean, sure, the supply increases; most companies that do IPOs actually issue more stock. But these days they ... kind of don't need to? This year, I was tickled by King Digital, which had a pronounced lack of need for the money it raised in its IPO, 10 but it's not like Facebook or Twitter or lots of other hot tech IPOs were about desperately needed fundraising. Even Alibaba, which sold over $10 billion in new shares in its IPO, 11 had no better ideas for the money than "general corporate purposes." Companies issue stock in IPOs because it looks weird not to, but the goal is never to flood the market with as much new stock as it will absorb. The goal is to bring in new money to buy existing shares, so that the people who own those existing shares get rich.
There are reasons to do an IPO other than to cash out existing shareholders -- to retain employees, say, 12 or to turn your shares into an acquisition currency 13 -- but cashing out really does seem to be the main one. The point of an Uber IPO will not be to raise money for Uber. The point of an Uber IPO will be to retroactively justify the private fundraising that Uber is doing now. Without an IPO in a year or two, the people who are investing in Uber now will regret it. And those are the people who are allocating capital to new businesses, so you can't have them regretting their decisions.
This is all sort of obvious. But it's important to calibrate your model. A thing that I sometimes say is:
If your model of the stock market is that companies that are building businesses come to the stock market to finance those businesses, your model is wrong. The stock market is where companies that have built businesses go to cash out their shareholders. The S&P 500 spends 95 percent of its earnings on buybacks and dividends.

People sometimes criticize dividends and buybacks: Companies should be investing in their businesses! They shouldn't just be giving money back to shareholders! But that largely misunderstands what the U.S. public equity market (now) is. The public equity market is not a mechanism for companies to raise money. It's a mechanism for companies to reward the people who previously gave them money. And that's what Uber's investors are looking forward to.
To contact the author on this story:
Matthew S Levine at mlevine51@bloomberg.net
To contact the editor on this story:
Zara Kessler at zkessler@bloomberg.net
Before it's here, it's on the Bloomberg Terminal.
LEARN MORE