A Holiday Gift Guide for Poker Fans
While the poker player on your list might not be pushy enough to mention it, the gift she or he almost certainly covets most is the $10,000 buy-in to the World Series of Poker Main Event.
by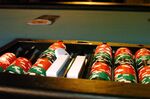 No one really gives ties anymore, do they? Plus everyone on your holiday list already has HBO, Netflix and Hulu. What about the latest Android-powered intelligent telephone? Yawn.
While the poker player on your list might not be pushy enough to mention it, the gift she or he almost certainly covets most is the $10,000 buy-in to the World Series of Poker Main Event next July, with maybe a little something extra thrown in for airfare and expenses at the Rio casino in Las Vegas. They're unlikely to be disappointed, either, to receive the buy-in to another World Series bracelet event, which run as low as $1,000. These events require only three-day commitments, instead of the 10 you have to carve out of your summer to play the Main Event, even though you might only survive a few hours -- or minutes.
During the rest of the year, the World Series Circuit hosts more than 250 events in 21 casinos costing from $365 to $1,675. The World Poker Tour hosts a dozen big televised tournaments, with buy-ins of $550 to $15,400. The PokerStars main event on Paradise Island costs $10,000. Heartland Poker Tour main events cost $1,650, and also offer opportunities to compete for long money at a televised final table.
For more modest holiday budgets, players can never have too many easy-to-shuffle plastic cards, which cost about $17 per setup (two decks). A decent set of 500 plastic chips in four colors runs about $40. Casino-quality sets run between $0.50 and $1.25 per chip. And to be stylish and warm during long days in brisk poker rooms, try the hoodies and hats worn by pros such as Phil Hellmuth and Antonio Esfandiari available at 3Bet.com.
For book lovers, the classic must-read poker narratives include Herbert O. Yardley's "The Education of a Poker Player," "The Biggest Game in Town" by Al Alvarez, and Anthony Holden's "Big Deal." "One of a Kind" by Peter Alson and Nolan Dalla is a lucid biography of Stuey "The Kid" Unger, perhaps the greatest gin rummy and poker player ever, whose life was cut short by his addiction to cocaine. The book that best explains the overlapping instincts and skill sets of the poker and business communities is, without question, "The Poker Face of Wall Street," by Aaron Brown of AQR Capital Management.
Of more recent vintage is Eric Raskin's "The Moneymaker Effect: The Inside Story of the Tournament that Forever Changed Poker," a vivid history of the epoch-making 2003 championship. Raskin weaves together the perspectives of Chris Moneymaker, the accountant from Tennessee who parlayed a $39 online win into the $1.5 million first prize in the Main Event; Sammy Farha, the Bogart-esque Vegas pro who was outplayed heads-up; Holocaust survivor Henry Orenstein, who invented the hole-card camera technology that allowed ESPN to show its vast audience how much skill was involved; as well as a dozen top professionals (Daniel Negreanu, Barry Greenstein, Erik Seidel).
Also brand new but going back further in history, Doug Swanson's "Blood Aces: The Wild Ride of Benny Binion" is a thoroughly researched and wickedly humorous biography of the man who invented the World Series of Poker. Binion never made it past second grade, but he had an instinctive understanding of how to run illegal gambling businesses, in part by paying off crooked vice cops and creatively murdering his competitors. When a tough new sheriff who didn't like him was elected in 1946, Binion fled Dallas for Nevada, where gambling was legal. He eventually opened the Horseshoe Casino, where in 1970 he and his eldest son, Jack, started the World Series.
If the player on your list wants to improve, David Sklansky's "The Theory of Poker" coolly illuminates the core math and logic of the game. "Every Hand Revealed," Gus Hansen's precise and witty account of how he won the 2007 Aussie Millions, is for folks looking to be entertained and enlightened. Dan Harrington's books on no-limit hold 'em are the most essential series covering that popular variant. Ed Miller's "Poker's 1%" is written for advanced players willing to put a lot of time and effort into improving their games, and to literally do their homework at the end of each chapter.
You might also consider getting the serious players on your list a subscription to a training site. There are half a dozen good ones, including CardRunners, DeucesCracked and Tournament Poker Edge. One of the best is Run It Once. The site's free basic package allows members to discuss everything from pre-flop calling ranges to handling bad beats. For $9.99 a month, you can access training videos narrated by 20 successful high-stakes players, most of whom specialize in no-limit hold 'em or pot-limit Omaha. For $99.99 a month, you can get instruction from 36 even more accomplished pros, such as Phil Galfond (the site's owner), Jennifer Shahade and Brian Rast.
Personal coaching costs at least $100 an hour, plus travel expenses. Veteran coaches with successful careers charge around twice that for working via phone or Skype, or $3,000 a day for in-person advice.
If the lucky recipient of these primers, sites or coaches (or even just one of the hoodies) takes full advantage of your gift, he or she may be in a position to be lavishly generous with you next holiday season, or sooner.
This column does not necessarily reflect the opinion of Bloomberg View's editorial board or Bloomberg LP, its owners and investors.