What the UVA Rape Cases Teach Us
Campus adjudication of rape cases can leave predators free to commit more rapes.
by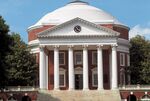 I don't think anyone can come away from Rolling Stone's article on an alleged gang rape at the University of Virginia without feeling sickened by it.  If the events as narrated are true, a boy brought a freshman girl to a fraternity event as a date, then shepherded her upstairs to be gang raped by a number of his fraternity brothers.  This is not some "he-said, she-said" about whether intoxicated sex constituted rape; it was a forcible violation by a gang of strangers who left her bloody and shattered. Her friends encouraged her not to report the rape, lest they be shut out of UVA's powerful Greek scene.  The dean she went to was carefully neutral on the topic of whether she should go to the police.