Trade Against a Self-Help Genius
Self-help guru Tony Robbins may help people realize their personal potential, but his financial advice won't do anyone much good.
by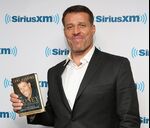 Tony Robbins is a self-help genius. He has sold millions of books that many people believe helped them realize their full potential. He understands the human psyche. As a motivational speaker, he knows what a person must do to overcome everyday struggles to "self-actualize," and awaken the giant within. People love his seminars (although I suggest you skip the walking on hot coals part). His counsel is sought by athletes, rock stars, CEOs, hedge-fund managers, presidents, even Oprah.