Housing's Misleading Health Indicator
An indicator of housing market health known as the absorption rate, or how fast the unsold inventory of homes are bought, really doesn't say much about whether the market really is healthy.
by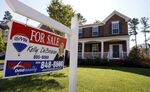 The National Association of Realtors will release its monthly U.S. existing home sales report tomorrow. Among other things, the report includes what's known as the absorption rate, or how many months it would take to sell all inventory at the current sales pace. This report and the media coverage around it will inevitably provide the well-worn insight that when the rate is less than six months, housing is "healthy." The current rate is 5.3 months.