Liberal Arrogance at the Core of Obamacare
Jonathan Gruber said voters were too dumb to understand what was good for them. That arrogance is the basis of Obamacare.
by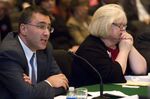 Obamacare architect Jonathan Gruber has gotten in trouble for remarks that applaud -- in the words of Washington Post reporters Robert Costa and Jose DelReal -- "the deliberatively deceptive way" the health-care law was written to get it passed in Congress.