You Can't Shame Me Into Voting
A progressive group that sends postcards to try to shame people into voting isn't just creepy. It's wrong about our right not to vote.
by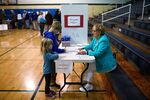 "Who you vote for is your secret, but whether you vote is public record." This was the creepy message on the postcard we received just days before Tuesday's election from the illiberal authoritarians who call themselves America Votes. Similar cards, as press reports have noted, were sent to voters in lots of battleground states, and included, as ours did, a printout of the recipient's voting record in recent years -- that is, whether we'd voted or not -- and a comparison with "neighborhood" voting patterns. The project has a Saddam-esque feel to it, and serves as a reminder about how poorly the right to vote is understood, and how fragile are the norms that protect it.