view
Why Obama's 'Coalition of the Ascendant' Crashed
Demography is on the Democrats' side, but they'll have to be patient.
by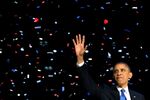 That "coalition of the ascendant" that the Democrats thought they had assembled only seems to exist in years that are divisible by four. The rising number of nonwhite voters, decreased churchgoing and liberalism among college-educated professionals may over time make the country more Democratic. But for now, the coalition is intermittent and unstable.
Warning signs were there months after President Barack Obama's election. Support for the president dropped steadily through 2013. The most telling setbackcame when Senate Democrats balked at some of his proposals to regulate guns. Another came when many Democrats parted ways with him on energy issues such as the Keystone pipeline and coal regulation. Democrats had a Senate majority because many of them had been elected in states that also went for Mitt Romney and John McCain in presidential contests. They could not afford to be as liberal as Obama on issues with a cultural dimension.
Obama's popular majority, much of it concentrated in urban areas, gave him an electoral majority. But it was not distributed in a way that made for a majority in the House or, as we have just seen, a stable one in the Senate. And it also appears to have been dependent -- even to an extent in blue states -- on voters who do not show up in midterm elections. Accusing Republicans of hostility to contraception, for example, may work as a way of motivating marginal voters in presidential years, when they just need a little nudge to go to the polls. Not so in the midterms.
Midterms and presidential elections have always featured different electorates. In recent years the demographic differences have taken on a strong partisan cast. Seniors make up more of the midterm vote, for example, and these days they are a Republican-leaning group.
The election results last night do not mean that Republicans are going to win in 2016. But they mean that the coalition of the ascendant has to ascend some more before it can govern the country.

To contact the author on this story:
Ramesh Ponnuru at rponnuru@bloomberg.net
To contact the editor on this story:
Toby Harshaw at tharshaw@bloomberg.net
Before it's here, it's on the Bloomberg Terminal.
LEARN MORE