Taylor Swift's Sexual Temptation
Navel-gazing at Taylor Swift's lack thereof. 
by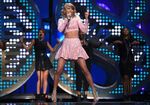 Taylor Swift has a bellybutton. (Here is photographic proof.) Her seeming reluctance to flaunt it -- duly noted by the blogosphere -- could mean any number of things. But it arguably has the effect of, well, buttoning her up; regardless of how much midriff she's baring, Swift is always in some sense covered.
If anyone was doubting the persistence of Swift's star-power or her transformation from country to pop, numbers released last night for her latest album, "1989," should silence the haters. According to Nielsen SoundScan, "1989" sold 1.287 million copies in its first week, beating Swift's last album, "Red," which sold 1.208 million copies in its debut week. In fact, "1989" had the biggest sales week of any album in more than a decade; it's already the largest-selling album released in 2014.
Which brings us back to that belly button: How has Swift gotten this far without more explicitly selling sex?
Swift is no prude. She performed at last year's Victoria's Secret Fashion Show. She's famous in part for putting real-life romantic relationships to music. She knows how to show some skin. In an Esquire interview she said that her security guards have to stay close due to "the sheer number of men we have in a file who have showed up at my house, showed up at my mom's house, threatened to either kill me, kidnap me, or marry me."
For all that, Swift doesn't sell concupiscence as Beyonce or Rihanna do. She doesn't sell sexual outlandishness like Miley Cyrus, or anamorphic oddity a la Lady Gaga. "Taylor Swift has up to this point been a sort of subtle and sophisticated sex symbol, more like a young Lauren Bacall or Audrey Hepburn, than a typical pop hoochie mama like Ke$ha," Howard Miller, a social historian and associate professor at Lipscomb University in Nashville, Tennessee, said by e-mail.
It's not clear that Swift could sell 21st century sultry if she tried. Her dance moves are sufficiently geeky to inspire the "Awkward Taylor Swift Dancing" Tumblr. Brian Seibert wrote for the New York Times that in her "Shake It Off" video, Swift is "like Lucille Ball or Carol Burnett, a heroine triumphing through klutziness. It is probably too generous to interpret the video as a satire of how dance gets used in pop videos, but it certainly is a satire of pop video conventions."
Swift seems to want to accentuate the sexy curves in her head; she has always excelled at songwriting. "It's certainly the sexiest album she's ever made," wrote The Atlantic's Julie Beck. "She shows herself in these songs as complicit in her troubled relationships now, the temptress as often as she is the victim."
Slate's Carl Wilson -- in a piece that uses the navel as its central (ahem) theme -- noted that Swift is "never explicit about acts and body parts, the way so much pop is in 2014."
On 1989, her erotic sophistication runneth over. On "Blank Space" she winks to her reputed "long list of ex-lovers," cavalierly calls love "a game—want to play?" and seems altogether indifferent to her previously cherished notions of eternal soul mates, boasting, "I can make the bad guys good/ for a weekend." The two lovers in "Style" mutually admit to cheating, which in an earlier Swift song would have been a cataclysm. And so on. There are of course many songs of romantic idealism, too, but the possessiveness of her previous songwriting persona seems to have been declared out of bounds.
Sex simply may not be Swift's ultimate sales pitch. More than eroticism, she offers friendship. She engages in meet-and-greets at concerts. Before "1989" came out, she entertained some lucky fans at "secret sessions" where they met her and heard the album. Swift is a master of social media. She has left comments on fans' Instagrams, and in the lead up to the release of "1989" baited her audience with photos of lyrics. She's been tweeting pictures of fans using the hashtag #taylurking. In September Buzzfeed declared, "Taylor Swift's Tumblr Is The Happiest Place On The Internet And This Is Why."
Swift works hard to be accessible. Vulture's Lindsey Weber wrote, "She treats her fans like friends, speaks their language, plays their games -- all while encouraging their documentation of her album purchase. It is social media marketing extended to the hyper teenage BFF extreme. And it's totally working."
Of course, Taylor Swift has grown up, and many of her BFFs have too. "Taylor Swift was selling friendship to the pre-teens and early-teens who were her biggest fans, but she was also selling a sort of low-key, nice girl sexuality to them. Her image is aspirational for girls on the cusp of (or just past) puberty, it's sexy, but not threatening and not gross, more like the A student, homecoming queen in a tight dress," said Miller.
"Sexy" may never have the same meaning in a Swiftian context as it does in a Cyrusian one. The homecoming queen will never be Queen Bey. But she entices us in her own way, with her lyrics, her friendship, her baby steps of rebellion. Her bellybutton may be covered, but you can still see her sexuality.

This column does not necessarily reflect the opinion of Bloomberg View's editorial board or Bloomberg LP, its owners and investors.