Republicans Courted Asians, and It Paid Off
Asian-American voters are more likely to care about Obama's foreign-policy blunders. They also appreciated Republican candidates' attention. 
by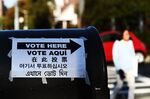 Evidence from recent election cycles suggests Republicans have some distance to go in winning minority support in major elections. But there was at least some indication from last night's exit polls that they may be making some headway with Asian-Americans, the fastest-growing minority group in the U.S.