A Crazy Idea About Italy
Maybe it's time to discipline Germany for letting Europe's lack of inflation get out of control.
by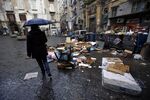 I've spent a good deal of my 35 years as an economic and financial analyst puzzling over Italy. Studying its economy was my first assignment in this business -- as a matter of fact, Italy was the first foreign country I ever flew to. I'm just back from a vacation in Puglia and Basilicata. Over the decades, the question has never really changed: How can such a wonderful country find it such a perpetual struggle to succeed?