Putin, Patriotism and the Fight for Russia's Textbooks
As the Russian government tightens control over school curriculums, the publishing industry gets more patriotic.
by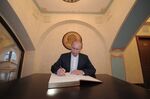 Because of this article in the New York Times this weekend, it is now a matter of public record that the Russian government is handing over the school textbook market to Arkady Rotenberg, a friend of President Vladimir Putin's who heads the board of directors of a major publishing house, Prosveshcheniye (Russian for Enlightenment). It's easy to portray Russia as a shameless kleptocracy where any and all principles are sacrificed to the enrichment of Putin's clique, but the story is more complicated. It's also worse.
The Russian book market is a familiar subject to me: in 2010 and 2011, I ran the business-book division of Eksmo, then one of the country's two biggest book publishers and now undisputed market leader. Back then, the company's chief executive, Oleg Novikov, kept out of the textbook market on principle -- because it was not really a market, and because every Russian publisher knew how dangerous it could be to get involved in it.
In 1994, the Russian government gave up its textbook publishing monopoly but kept funding textbook purchases for schools. That opened up a huge guaranteed market for private publishers: All they had to do was get their products on the education ministry's approved list and then lobby regional education boards to adopt them. Predictably, the business became incredibly corrupt. In 1995, a consortium of smaller publishers did its best to sell its products to regional administrations, expecting they would get federal financing for the purchases, but the education ministry turned around and handed all the orders to state-owned Enlightenment and the biggest private player, Drofa. Soon, Vladimir Vishnyakov, Drofa's deputy chief executive, was killed in a contract hit. Two other Drofa executives met the same fate in 1997 and 2003. Novikov, my boss, wanted no part of this business.
Then, times changed for Russian book publishers: Their market started shrinking. In 2013, the industry's combined print run was back to the 2001 level, about 540 million copies. Since 2008, physical sales were down 36 percent. Textbooks remained the only relatively buoyant segment: print runs have actually grown since 2009. That's because the government, not the market, funds textbook purchases.
Probably the biggest reason for the drop in bookstore sales was Russia's inability to control book piracy. Pirate services get every Russian book days after it is published, and in some cases manage to release potential best-sellers before official publication dates. Russians don't buy electronic books, they just download them. While in the U.S. more than 20 percent of books are sold in legitimate digital form, in Russia that share is only expected to reach 5 percent in 2017.
The Russian government has never shown much interest in fighting content piracy. It has passed some rather strict laws, but it's still too easy to steal music, moves and books for the average consumer to worry about paying.
Textbooks are another matter: In recent years, the government has wanted more control. Putin has even ordered the unification of history textbooks: History, of course, is the ideologically obvious place to start shrinking the incredible plurality of school texts that proliferated since the 1990's. There are other sensitive subjects, too: Russian literature, geography, foreign languages. All these may be taught from a "patriotic" standpoint or a "cosmopolitan" one. There is no doubt these days which one is preferable.
The interests of major book publishers and the government have converged.
For the publishers, textbooks, which accounted for about 30 percent of Russia's $2.5 billion book market last year, has become a lifesaver. Eksmo, which has swallowed up the second biggest private publisher, decided to move into the schoolbook business. "We have reached our ceiling as far as our scale on the book market is concerned," Novikov said in an interview last summer. "I see the textbook market as distinct from the book one, but it's the closest to what we do and the most understandable."
For the government, working with a smaller number of publishers and a shorter list of titles is now a matter of ideological control over school curriculums. Under the previous president, Boris Yeltsin, and in Putin's first two terms, too many publishers succeeded in getting their books on education ministry lists. They weren't carefully reviewed, and all sorts of "enemy" propaganda could filter in. That would no longer be tolerated.
Consolidation in the industry was inevitable. The well-connected owners of Olma Media Group, a relatively small publishing house, obtained financing from Rotenberg and other Putin friends to privatize Enlightenment, which controls about 50 percent of the textbook market. Eksmo, which competed unsuccessfully for that acquisition, picked up Drofa aznd Ventana Graf, gaining a 25 percent market share.
The New York Times story says Enlightenment was the "one standout winner" of the Russian education ministry's decision this year to cut its list of approved textbooks by about half, throwing out tried and tested school books put out mainly by small publishers. It wasn't as simple as that. In 2014, Enlightenment has 415 textbooks on the approved list, compared with 788 the previous year -- a decrease of 47 percent. Eksmo subsidiaries Drofa and Ventana Graf fared somewhat better: They have a combined 491 titles on the list, down from 875, a 43 percent drop.
Counting titles, of course, is not the same as counting money: Some of the textbooks are used by almost every school and others are present in just a handful. When the list was drastically downsized, the market leaders lost some of their less important titles, but small publishers -- whose complaints got a lot of attention from the Times -- came close to losing their livelihoods. To them, every book on the list was important.
Tough luck. Putin's government needs to work with big players who know the rules and can easily be controlled because of their sheer size. Putin trusts his friends, such as Rotenberg, to help him politically, but working with independent entrepreneurs such as Novikov, who are heavily invested in Russia, is OK too. The enrichment motive is there, but it's not the most important one: Today's Russia is growing into an ideological state. Those who have no problem with it are still allowed to make money.
This column does not necessarily reflect the opinion of Bloomberg View's editorial board or Bloomberg LP, its owners and investors.
To contact the author on this story:
Leonid Bershidsky at lbershidsky@bloomberg.net
To contact the editor on this story:
Toby Harshaw at tharshaw@bloomberg.net
Before it's here, it's on the Bloomberg Terminal.
LEARN MORE