Health Care Everyone Can Agree On
We disagree on the future of of Obamacare. We agree on the need to give states more control over health-care pricing. 
by and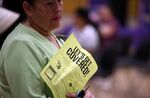 Republicans and Democrats have little occasion to agree on anything in these toxic times. Nowhere are their differences more acute than on health-care policy.