How LinkedIn Cracked the Chinese Market
LinkedIn has been successful in China because it's the only foreign Internet company that offers something a Chinese rival just can't replicate.
by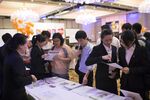 When I first began teaching English in Beijing almost 15 years ago, I also worked as a copy editor for a few Chinese newspapers. Lots of my students and colleagues dreamed of becoming teachers, entrepreneurs, bankers and consultants. (Yes, you heard that right, some people yearn to be consultants.) They wanted to wield business cards with brands such as Deloitte, Goldman Sachs and Pepsi. So they toiled over adverbs and thought about life outside of state-run companies.
Without fail they asked for introductions to my American business connections, and they were crestfallen when I couldn't help. They wanted desperately to network, and this in an era when a digital, 300-million-strong professional network named LinkedIn didn't yet span the globe. There was just me and other random foreigners who were sometimes in China because we couldn't get jobs at Goldman either.
There was, and is -- as the consultants would say -- lots of pent up demand for LinkedIn in China.
Now LinkedIn is the first U.S. company to enjoy Internet success in China. The country is at the center of one of the professional networking site's fastest growing regions and represents one of its biggest opportunities. While LinkedIn has only 5 million members in China (if you combine its English and Chinese language sites) the country is home to more than 100 million professionals who are potential future members.
Last quarter, LinkedIn's chief executive officer, Jeff Weiner, mentioned the positive effect that China has had on his company's bottom line. Fueled by China, LinkedIn's revenue from its Asia Pacific division grew 64 percent last quarter, faster than from its operations in any other part of the world. Investors hope to see that growth continue when the company reports earnings today, and in the future.

Most discussions of LinkedIn's success inevitably focus on the fact that the company cooperates with the Chinese government and censors content from its Chinese users -- a discussion that intensified when LinkedIn started blocking some of its users' posts earlier this year. (Other companies, including my employer, Bloomberg LP, have also had to navigate these hurdles.)
Some critics have made much of the fact that LinkedIn tries to paint its so-called "professional content" -- stories about management techniques and earnings and best practices that it features alongside resumes and job postings -- as uncontroversial. Therefore, the argument goes, there isn't much on the site to warrant the attention of censors.
Here's the thing, though: Content isn't the core reason LinkedIn has made strides in China. It's been successful there because it's the only foreign Internet company that offers something that a Chinese rival just can't replicate -- a direct connection between the world's biggest companies, the world's most respected universities, and bazillions of networking-starved Chinese who want to use the site's services.

LinkedIn is a window onto, and in some cases a passport to, the middle class, white-collar professional world that Chinese citizens have craved ever since they traded in their Mao suits for Levis in the 1980s.
The tremendous growth of the middle class is one of the most significant economic and social changes to hit China, and the government has tried to nurture it in order to preserve economic and social stability. That has meant, among other things, fostering connections between foreign universities and select multinational companies. It's meant creating a tier of home grown professional services companies, often founded by or stocked with people who studied and worked at premiere foreign institutions.
The world is watching to see how LinkedIn deals with censorship and the Chinese government. But that's not the only way to gauge why it's been successful at courting Chinese users and dodging Chinese hardliners. LinkedIn meets the aspirational needs of a generation hungry for opportunity and simply copying its content strategy won't translate into duplicating its success.
It's not only foreign companies that have a hard time mimicking LinkedIn in China. Homegrown Chinese companies face the same dilemma. Tencent, Weibo, Renren and Alibaba can replace Facebook, Google, Twitter and Amazon; but none of them can yet replicate LinkedIn.
This column does not necessarily reflect the opinion of Bloomberg View's editorial board or Bloomberg LP, its owners and investors.